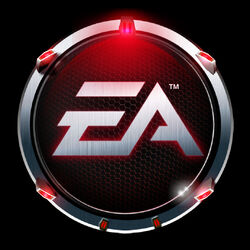 Electronic Arts is a video game publisher and developer. EA was founded in 1982 and is one of the most prolific game publishers, along with main competitor Activision. EA's in-house game franchises include Need for Speed, Medal of Honor, The Sims, Battlefield, Burnout, Command & Conquer, Rock Band, and Crysis, as well as many movie-based games. EA is the official publisher of the Crysis series, and as part of its marketing initiative, EA developed a special nanosuit-themed version of their logo for use exclusively with the Crysis series.
EA is a highly controversial company in the game industry for its monopolistic tactics with smaller studios, usage of digital rights management software like SecuROM, and creative infringement tactics with developers. However, EA gave Crytek an unusual amount of leeway with Crysis, as Crytek is a member of EA Partners and not a subsidiary of EA themselves. Despite this, rumors regularly surface that allege EA tampering with various Crysis concepts like multiplayer, DRM, and release schedules.
Ad blocker interference detected!
Wikia is a free-to-use site that makes money from advertising. We have a modified experience for viewers using ad blockers

Wikia is not accessible if you've made further modifications. Remove the custom ad blocker rule(s) and the page will load as expected.