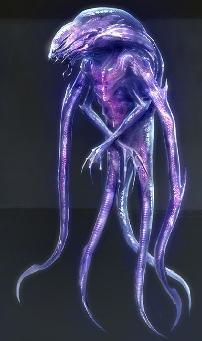 Ceph, sometimes called "squids" by the humans, are an extraterrestrial race that is one of the main factions in the Crysis series. Dr. Rosenthal estimates that they predate mankind by 2 million years, and Helena Rosenthal believes they sent a distress signal 400 light years away. They are chiefly headquartered on the island, but Dr. Rosenthal mentions finding similar specimens in Russia and Afghanistan, indicating a possible global movement. Three years later, more Ceph members invade New York City, and Prophet reveals that they have ships buried underground all over the planet. Ceph technology was also involved in the Tunguska event, from which Jacob Hargreave built a variety of anti-alien technology, such as the nanosuit.
Types of aliens include troopers, scouts, hunters, and the large warship, as well as the enormous alien ship itself, contained in the mountain on the island. When inside their zero-gravity ship, aliens move about without their scout exoskeletons, and use handheld MOAC ice shard launchers. The aliens are assumed to live in a methane enviroment, and cannot survive in Earth's oxygen-rich atmosphere without their exoskeletons.
Ad blocker interference detected!
Wikia is a free-to-use site that makes money from advertising. We have a modified experience for viewers using ad blockers

Wikia is not accessible if you've made further modifications. Remove the custom ad blocker rule(s) and the page will load as expected.