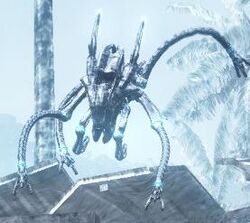 Alien troopers are the alien shock forces on the island. They are roughly four feet long, with large bodies and four tentacles. They are capable of hovering and leaping several feet in the air, and use the pincers on their tentacles to impale prey. They make a spinning noise as they move and can shoot ice pellets, a capability demonstrated by the MOAC. Scouts can drop troopers from their tentacles.
An alien trooper was responsible for the death of Admiral Richard Morrison.
Alien trooper leader
Edit
A variant of the alien trooper is the alien trooper leader, which has an ornamental green spiked faceplate. Trooper leaders can withstand more punishment than ordinary troopers and can also fire MOAR ice beams.
Alien guardian trooper
Edit
Another variant of the alien trooper appears exclusively in Crysis Warhead. Guardian troopers look like green versions of normal troopers, but can generate a green energy sphere around themselves. Small energy beams connect to other alien troopers, which then generate spheres of their own. Alien troopers cannot be harmed while protected by these spheres, meaning the guardian must be killed first to deactivate the shields.
Ad blocker interference detected!
Wikia is a free-to-use site that makes money from advertising. We have a modified experience for viewers using ad blockers

Wikia is not accessible if you've made further modifications. Remove the custom ad blocker rule(s) and the page will load as expected.